Material 4
Christoph Wagner: Die Rezeption des Jazz als Barometer der Freiheit (2015)
$\;$
"I Got Rhythm – Kunst und Jazz seit 1920" ist eine Ausstellung im Stuttgarter Kunstmuseum betitelt. Sie zeigt die Querverbindungen zwischen moderner Kunst und Jazz. Im unteren Teil von Manhattan, in der East 2nd Street, steht das Kenkeleba House. Im Erdgeschoss befindet sich eine Galerie, darüber vierzig Ateliers. Zusammen mit seiner Frau Corinne Jennings betreibt Joe
5
Overstreet das Kunsthaus als gemeinnützige Unternehmung. Der 82-Jährige, der mit Jazzgrössen wie Eric Dolphy und Sun Ra befreundet war und Künstler wie Willem de Kooning und Robert Rauschenberg kannte, gehört bis heute zur raren Spezies afroamerikanischer Künstler, die sich der avantgardistischen Malerei verschrieben haben. In der Ausstellung "I Got Rhythm – Kunst und Jazz seit 1920" im Stuttgarter Kunstmuseum hängt
10
Overstreets Gemälde "Strange Fruit" an prominenter Stelle. Es führt in die Thematik "Jazz und Rassendiskriminierung" ein. Der Titel des Gemäldes bezieht sich auf den gleichnamigen Song der Jazzsängerin Billie Holiday, der vom Lynchmord an einem Afroamerikaner berichtet, dessen Füsse gespenstisch von links oben ins Bild baumeln. Jazz war in seinen besten Momenten oft auch Anklage und Protest, ein Schrei gegen Unrecht, rassistische Gewalt und Unterdrückung.
15
140 Kunstwerke, überwiegend Gemälde, aber auch Filme, LP-Covers, Objekte und Assemblagen[1], sind in der Ausstellung zu sehen, die die letzten hundert Jahre umspannt. Dazu gibt es viel Musik, die die Jazz-Historie von ihren Anfängen bis in die Jetztzeit hörbar macht. Es beginnt nach dem Ersten Weltkrieg, als der Jazz aus den USA nach Europa schwappte. Die "hot music" sorgte für helle Aufregung. Mit exotischen Tänzen avancierte in Paris Josephine Baker zum Star. Der Architekt Adolf Loos entwarf 1927
20
eigens ein Haus für sie, dessen Modell in der Ausstellung zu sehen ist. Am Bauhaus[2] berauschte man sich ebenfalls an den wilden Tönen. Eine Bauhauskapelle wurde ins Leben gerufen. Dozenten wie Paul Klee spendeten Geld für den Kauf eines Saxofons. Der Funke sprang auch auf Henri Matisse, Max Beckmann und Otto Dix über. Sie liessen sich von den hitzigen Klängen inspirieren und verarbeiteten die Impulse auf der Leinwand. Jazz avancierte zwischen den
25
Weltkriegen zum Emblem von Freiheit, Modernität und Urbanität. In Deutschland machten ab 1933 die Nationalsozialisten dem "Spuk" der "Negermusik" ein Ende. Jazz wurde als "entartet[3]" deklariert – wie die moderne Kunst. 1938 prangte die Karikatur eines Jazzsaxofonisten auf dem Werbezettel für die Ausstellung "Entartete Musik" in Düsseldorf, die auf die Münchner Schau "Entartete Kunst" von 1937 folgte. Nach dem Zweiten Weltkrieg lösten sich die Formen allmählich auf. Die Malerei wurde abstrakter, während sich die Jazzmusiker von Melodie, Harmonik und Swing-Rhythmen lösten […]. Christoph Wagner: Die Rezeption des Jazz als Barometer der Freiheit, in: Neue Zürcher Zeitung, 30.10.2015. http://www.nzz.ch/feuilleton/musik/die-rezeption-des-jazzals-barometer-der-freiheit-1.18637973 (abgerufen am 17.01.2016).
---
Annotations
[1] Assemblagen: three-dimensional works of art
[2] Bauhaus: a German school of architecture and applied arts founded in 1919 by Walter Gropius on experimental principles of functionalism and truth to materials. Closed by the Nazis in 1933. Famous students a.o. Kandinsky, Klee, and Mies van der Rohe.
[3] entartet: degenerate


Material 5

$\;$

Christopher Torchia: South African police are firing rubber bullets and tear gas at students (2015) Tear gas billowed and stun grenades exploded Wednesday as South African police pushed back students who had massed near the steps of parliament to protest university tuition hikes[1] amid some of the biggest student demonstrations since white minority rule ended in 1994. The violence in Cape Town erupted after students shoved their way through a parliament gate and scuffled

5

with riot police, tossing water bottles and pushing up against the plastic shields of officers. Earlier, security guards inside parliament forcibly removed a group of opposition lawmakers from the floor after the legislators, who are sympathetic to the students, disrupted debate by chanting: "Fees must fall!" Student protests against apartheid were much bigger and were sometimes met with deadly force by the government, notably in the bloody crackdown on a 1976 uprising started by thousands of high school

10

students in the Soweto area of Johannesburg. Yet the spectacle of furious students sparring with police in democratic South Africa was bound to sharpen tensions between a growing national student movement on the one hand, and university administrations and the African National Congress-led government on the other. The protest at parliament was part of a wave of nationwide demonstrations Wednesday at South African

15

universities, whose managers say they are struggling with higher operational costs as well as inadequate state subsidies. Police also used stun grenades[2] and rubber bullets to disperse demonstrating students at Nelson Mandela Metropolitan University in the city of Port Elizabeth, as well as the University of Limpopo in Polokwane, South African media reported.

20

News channel eNCA posted [a] video on its website that showed police clearing a road blocked by students in Port Elizabeth. Protesters in Polokwane forced some students to stop taking exams, reported News24, a South African news outlet. Students also marched in Pretoria, Johannesburg and other cities. The protests began last week at the University of the Witwatersrand, also known as Wits, in Johannesburg.

25

After several days of demonstrations, it dropped plans for a proposed 10.5 percent tuition hike next year, and has suspended activities for the rest of this week because of the disruption. Other universities, including the University of Cape Town, have also stopped operations as exams loom for many students.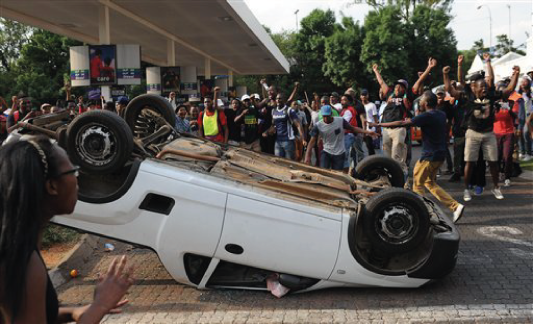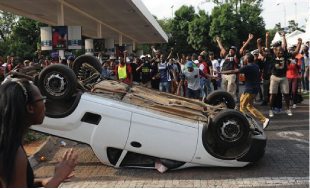 Students from the University of the Witwatersrand overturn a vehicle off campus after blocking traffic, during protests in Johannesburg, Monday Oct. 19, 2015. Students, demonstrating against the increase of tuition fees at some top South African universities, blocked roads and entrances and caused the suspension of classes on some campuses. Blade Nzimande, the higher education minister, this week proposed a 6 percent limit on tuition fee increases next year, but student leaders rejected the proposal and said they would continue protests. Some
30
South African leaders have said the country's education system is still trying to overcome the legacy of a system of racist rule that favored the white minority while denying basic rights and opportunities for the black majority. However, critics also allege the government is not doing enough to subsidize the university education of its youth, many of whom struggle to pay for school.
35
"Student fees need to be affordable to allow for greater access to the poor, poor working class and even middle class families," Deputy President Cyril Ramaphosa said at an education forum last week. The average tuition fee for a first-year undergraduate student studying humanities at Wits, a top South African university, is between $ \$ $2000 and $ \$ $3,200 this year, according to the university. Students who register for the first time also make a onetime payment of $ \$ $730.
40
The cost of text books and accommodation adds to the financial burden of university enrollment. These fees are difficult for many students and their families to meet. "The government must do something to help us deal with this," a student protester told eNCA outside parliament. Christopher Torchia: South African police are firing rubber bullets and tear gas at students, in: Business Insider UK, 22.10.2015. http://uk.businessinsider.com/south-african-police-are-firing-rubber-bullets-and-tear-gas-at-students-2015-10?r=US&IR=T (abgerufen am 17.01.2016).
---
Annotations
[1] tuition hikes: rise in education costs
[2] stun grenades: Blendgranaten