1.
Outline the advantages and disadvantages of the oil sands boom mentioned in the article.
2.
Analyze the means used to convince the reader of the author's position.
Refer to the article and the photo published with it.
3.
Choose one of the following tasks:
3.1
As a host student at a Canadian school you are asked to deliver a speech to your fellow students in which you convey your personal opinion on the exploitation of fossil fuels and its implications.
Write this speech, using the situation in Alberta as a starting point.
$\quad \quad \;$
OR
3.2
"We only get one planet. Humankind must become accountable on a massive scale for the wanton destruction of our collective home. Protecting our future on this plant depends on the conscious evolution of our species."
(DiCaprio, Leonardo: Address to the United Nations Climate Summit, September 23, 2014).
Comment on this statement.
Text
Neela Banerjee: In Canada's Alberta province, oil sands boom is a two-edged sword (2013)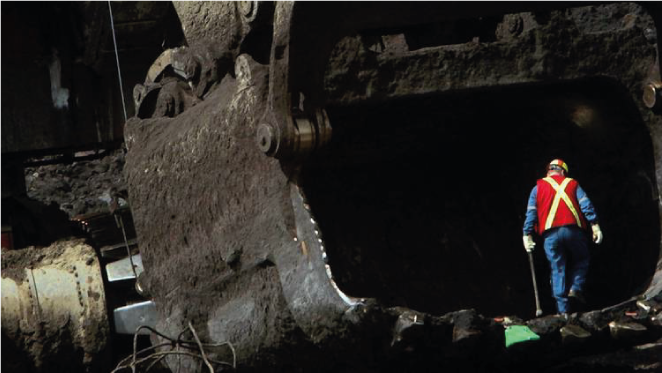 Abb. 1
: A worker gets ready to replace the teeth of a giant electric shovel used to dig up tar sands at a mine in Canada's Alberta province. Oil sands production, already booming in northeastern Alberta, could grow far larger if the Keystone XL pipeline is built to link the province to Texas.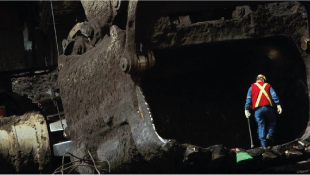 Abb. 1
: A worker gets ready to replace the teeth of a giant electric shovel used to dig up tar sands at a mine in Canada's Alberta province. Oil sands production, already booming in northeastern Alberta, could grow far larger if the Keystone XL pipeline is built to link the province to Texas.
$\;$
The oil sands industry has brought good jobs to villages such as Fort Chipewyan. But there is fear about cancer and the environment.
Fort Chipewyan, Canada - In the Cree language, the word "athabasca" means "a place where grass is everywhere." Here in Alberta, the Athabasca River slices through forests of spruce
5
and birch before spilling into a vast freshwater delta and Lake Athabasca.
But 100 miles upstream, the boreal forest has been peeled back by enormous strip mines[1], where massive shovels pick up 100 tons of earth at a time and dump it into yellow trucks as big as houses.
The tarry bitumen[2] that is extracted is eventually shipped to refineries, many in the United States,
10
to be processed into gasoline, diesel and other fuels. But the leftover polluted slurry remains in miles-long impoundments, some high above the banks of the river. Air cannons sound periodically to keep migratory birds from landing on the toxic ponds.
Oil sands production, as the procedure is called, is booming in northeastern Alberta. […]
Debate in the U.S. over the pipeline has largely focused on whether the oil sands would
15
contribute to climate change, or spill along the route. But in northeastern Alberta, the effect of the oil sands industry plays out in more complicated ways.
Oil sands are exploited by injecting high-pressure steam into the earth or by strip mining to extract the sticky bitumen, which is then washed away from clay and sand, swiftly heated and diluted with the chemicals before being shipped to refineries.
20
The petroleum industry has funneled billions of dollars into Canada's national, provincial and local economies and employs thousands of people in places with few other jobs. But the oil sands boom may also be polluting the air and water, and is stoking fear that it is damaging the health of those in its arc.
"From everything I hear from the indigenous people, their thinking seem to be 'It's a choice
25
between whether we starve to death or are poisoned to death,'" said Dr. John O'Connor, a general practitioner who has worked here since 1993.
In Fort Chipewyan, a village of 1,100 people on the north shore of Lake Athabasca, cancer and autoimmune diseases such as lupus[3] have taken a heavy toll on its mostly indigenous Cree, Dene and Metis population during the last 20 years. In 2009, the provincial government
30
found that cancer rates here over a 12-year period were 30% higher than normal for such a small community (51 cancers in 47 individuals versus an expected 39 cancers).
Three weeks ago, government scientists told villagers that they had found high levels of mercury, a hazardous substance, in the eggs of migratory birds that nest downstream from oil sands production. Fishermen say pickerel[4] and northern pike in the lake show bulging eyes
35
and other deformities.
Three studies by independent scientists have shown rising concentrations of pollutants, including carcinogens[5], in waterways near Alberta's oil sands production.
Industry officials and the Alberta government have long insisted that the chemicals detected in area waterways are naturally occurring, not the result of pollution.
40
They also say they are taking full safety precautions to protect communities tucked into a vast wilderness. Some of the indigenous people, known as the First Nations, have hunted and fished here for thousands of years.
The oil industry is funding a government-run system to monitor possible pollution. Reclamation efforts, meanwhile, can take years, if not decades. Of the thousands of acres mined during 40
45
years of oil sands extraction in Alberta, only 247 acres have been restored to land resembling unmined areas.
"We will be here another 50 to 60 years," said Greg Stringham, vice president for oil sands for the Canadian Association of Petroleum Producers. "We're very supportive of looking at the cumulative effect of what we do."
50
Canada already is the largest exporter of crude to the United States, mostly from oil sands. Officials hope to increase production by 2030 to about 5 million barrels a day from the current 1.9 million barrels. Many of the world's biggest oil companies hold leases to develop oil sands along the Athabasca River and other parts of eastern Alberta. Syncrude, Suncor and Shell already operate upstream from Fort Chipewyan.
55
The Keystone XL pipeline, the most efficient way to ship oil, is crucial to the effort. Some local residents fear the pipeline would accelerate development of the oil sands and create additional pollution.
Beginning in the 1990s, says 71-year-old commercial fisherman "Big Ray" Ladouceur, he began catching fish with deformities from Lake Athabasca. The cause is unknown, but three peer-
60
reviewed studies by university researches since 2009 have sounded warnings about water pollution linked to oil sands development in Alberta. Banerjee, Neela: In Canada's Alberta province, oil sands boom is a two-edged sword. http://articles.latimes.com (25.11.2015)
---
[1]
strip mines:
mines in which the process of digging happens on the surface
[2]
bitumen:
mixtures of hydrocarbons that occur in asphalt or tar
[3]
lupus:
a serious skin disease
[4]
pickerel:
a type of fish commonly found in North America
[5]
carcinogen:
any substance that produces cancer