A hat with a history
$\,$
Weary travellers arriving at Calgary Airport are often delighted to be welcomed by red­vested volunteers wearing white cowboy hats. To tourists and celebrities alike, the white cowboy hat has become the unique trademark of the Canadian city of Calgary.
Although many people associate it with the American 1950s TV character "The Lone Ranger", the white cowboy hat was an entirely Canadian idea. It is true, however, that the whole process started with an American invention.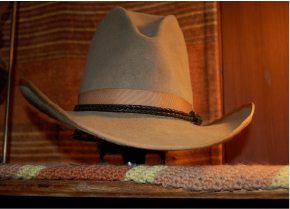 Abb. 1
5
The first cowboy hat was created by John Stetson, the son of a hat maker, in 1863. As a young man, John left his home to travel the American West. On his journey he met gold miners, ranch hands and cowboys and he noticed that the hats they wore were ill-suited for keeping the sun's heat or the rain from their heads.
Using his knowledge of the hat industry and his insights into the life of cowboys that
10
he had gained during his travels, he designed a new kind of hat. lt featured a wide brim to protect people's faces from the hot sun and was made from waterproof black or grey felt. The new hat, called "the Stetson" because the name "John B. Stetson Company" was written in gold on every hat band, soon became an essential piece of equipment for the working cowboy.
15
Sixty years later, when young Canadian Morris Shumiatcher founded Smithbilt Hats lnc. in 1919, the Stetson had already become synonymous with high quality cowboy hats. Many Wild West icons like Buffalo Bill and Annie Oakley wore them. Shumiatcher began his business by producing hats for the market in his hometown of Calgary. He was soon known as the best hat maker in the region. His premium cowboy hats for local ranchers made him one of Stetson's fiercest rivals throughout Canada.
20
lnterestingly enough though, it was not a cowboy who came up with the idea of a white cowboy hat. When William Herron, a Calgary businessman, saw the black cowboy outfits his wife was making for the family, he thought white cowboy hats would match perfectly. Unable to find anyone to make such hats in the USA, Herron asked Shumiatcher of Smithbilt Company. Shumiatcher agreed to produce 144 hats of white feit if Herren
25
guaranteed the sale of all the hats. This guarantee, however, turned out to be quite unnecessary; all the hats were sold out in an afternoon. In the following year, Shumiatcher made and sold another 2,000 of them. Two years later, a train full of Calgary football fans, most of them wearing the white hat, travelled to Toronto to support their team. A Calgary fashion trend had been created that continues till today.

30
"Not many people know how to do it anymore" says Bryce Nimmo, President of Smithbilt Hats. Behind him in the hot, dusty workshop sit dozens of unfinished hats on a work table. "Our hats are made from either wool or fur felt. We buy the material from manufacturers throughout the world and use well-tried processes and tools. The famous white hat has a special shape but we can adjust it to the person who is going to wear it. I
35
love making hats to fit different heads and personalities", he explains. "Every customer has their own sense of style. One person wants a pink ribbon and another one a special design. And l'm pleased to make a hat a guy wants to wear. The trick for a woman's hat is reducing the size of the brim. Our company produces different styles of white cowboy hats. One of them, the Official White Hat, is made of 100% rabbit fur and sells for
40
$199.99. Our store also offers a complete renovation for 'old friends' for 95 dollars and gives advice on how hat­wearers should behave, e. g. remove the hat when entering an elevator, restaurant or home, never wear it during a meal, touch the brim lightly when greeting a friend, raise the hat when meeting a lady and place it over your heart during the national anthem."
45
Smithbilt's white cowboy hat started its rise to worldwide fame in 1950. Back then the mayor of Calgary began presenting white cowboy hats to prominent visitors, thus creating the tradition of the White Hat Ceremony. The long list of personalities that have been "white-hatted" includes presidents, rock stars and members of the British royal family.
50
Celebrities, however, are not the only ones to receive a cordial welcome. Since 1991, the White Hat Volunteers, a team of over 400 Calgary citizens dressed proudly in white cowboy hats and red vests, have welcomed arriving passengers. One of them, Mr Bradshaw, explains, "I love greeting people with a hearty 'Hello!' and helping them find their way around the airport." This service and attitude has made Calgary Airport one of
55
the friendliest and most memorable in the world.