Chapter VII: The Garden of Eden
In this chapter, Lily realizes that her kids live rather isolated from other kids on the ranch. In order to socialize them a little more, both Rosemary and Little Jim are being sent to boarding school. Little Jim will soon visit a boys school in
Flagstaff
and Rosemary a Catholic girls school in
Prescott
. Yet, Rosemary and Little Jim are very close to each other and do not need any friends. They usually ride racing duels against the trains of the Santa Fe Railroad, which they lose, of course.
Furthermore, Lily notices that Rosemary and Little Jim often hurt themselves during their riding trips or while they play with each other. Lily and her husband, however, want them to be bold and courageous and not be bothered by minor injuries.
When Lily and Rosemary are on their way to visit Jim, who is checking on the fences of the property, they get stuck in the mud with the car. Since Lily and Rosemary do not want to walk back all the way, Lily decides to catch a wild horse: Lily uses her knowledge of horses to catch a wild mare and ride it back to the ranch. Rosemary is astonished by her mother's creativity and power of endurance. Having arrived at the ranch, Rosemary wants to keep the horse but Lily won't allow that because she thinks that such a horse does not belong on a ranch.
In 1941
, the Smiths decide to finally send their nine-year-old daughter and the eight-year-old son to school. Lily wants to go to college in order to earn a degree, hoping that she will finally get a permanent position. However, Rosemary is not very happy about her parents' decision and saying goodbye is hard for her. Crying, she turns around to see her mother. But Lily shouts at her that she has to be strong, claiming that other children would kill for this opportunity.
Little Jim often tries to escape from the boarding school and Rosemary does not like going to school either - the nuns reprimand Rosemary due to her wild behaviour and she is also being bullied by her classmates because of her origin. Rosemary writes various letters to her mother telling her how much she misses ranch life.
After the Attack on Pearl Harbour in 1941
, Rosemary feels even more uncomfortable. The nuns darken the windows and she feels as if she was suffocating
14
. Her mother, however, answers her daughter's letters by giving her advice how to bear the situation and by correcting her grammar.
In 1942
, Lily receives a letter by the headteacher of Lily's school. She wants to expel Rosemary due to her bad grades and her rude behaviour. But Lily is able to persuade the headteacher to let Rosemary stay at the school. After their second year, however, Rosemary and Little Jim both have to leave school, whereas Lily finally earns her college degree. A little later, she gets a job at a one-room school in
Big Sandy
and also teaches her own children there. Rosemary is very happy about not having to go to boarding school anymore. She tells her mother that, one day, she wants to be an artist living on a ranch.
While Lily went to college, her mother died. Now, she receives a telegram from her father who is on his deathbed in a
nursing home in Tucson
. Adam Casey wants his daughter to take him home since he feels he is going to die soon and since he wants to be with his family. Although gas is rare and expensive due to the war, Lily and Rosemary head for Tucson. Lily trades off beef against petrol, but in Tempe they run out of gas.
With Rosemary at her hand and the story of her dying father on her lips, Lily convinces some cowboys at a gas-station to give her some fuel. One day later, they arrive in Tucson. Yet, Lily's father refuses her offer to take him home because he considers the trip too long for his bad condition. He wants his daughter to promise him that she will bury him on the
KC Ranch
. Rosemary takes her grandfather's hand and Lily is proud of her. A few hours later, Adam Casey dies. The next morning, Lily and her daughter set out for the KC Ranch with the corpse.
Adam Casey is laid to rest at the KC Ranch. His daughter accepts his death and looks after the estate. Buster is going to inherit the KC Ranch and Lily will receive Salt Draw – but at the same time, she has to pay back all of the property's tax debts. On the way back to Seligman, Lily thinks about a strategy to pay back the tax debts. Meanwhile, Rosemary has to beg for petrol. Having been too shy at the beginning, she becomes quite successful very quickly. To reward her daughter for having been that successful, Lily shows her a statue – the Madonna of the Trail in Albuquerque. Lily is fond of the statue whereas her daughter thinks it is ugly and scary. For Lily, the statue in some manner represents her own life, with the martial represenation of a pioneering, armed woman who is also a mother at the same time.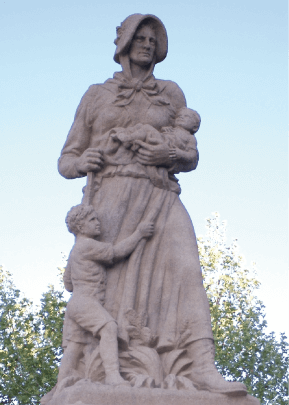 Madonna of the Trail Source:
http://commons.wikimedia.org/wiki/File:Madonna_Detail.jpg – W. Guy Finley (CC BY-SA).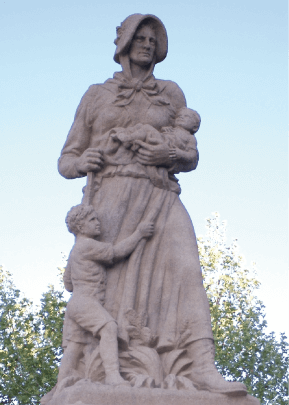 Madonna of the Trail
source: wikipedia.org, W. Guy Finley
The following summer, an event will drive Lily and Rosemary apart from each other. Lily is being asked to take Clarice Pearl, a member of the Arizona Department of Education, to a Havasupai settlement near the Grand Canyon. She takes Rosemary along but forbids her to leave their hut at night. Rosemary, who is fascinated by the young men of the town, ignores her mother in order to go swimming with some kids in the moonshine. As Lily realizes her daughter has snuck out, she is furious. She fears that if Rosemary would not face any consequences for her behaviour, Lily would look like an incapable mother and hence, she beats her daughter. After Lily's and Rosemary's return to the ranch, Rosemary is sent back to boarding school. This is the moment when Rosemary finally turns away from her mother.
In the meantime, the British owners of the ranch decided to sell the ranch to an investor from Hollywood. As Big Jim and Lily know they will not get along with the new owner, they decide to give up their ranch life.
14
to suffocate: ersticken